SHE'S CRAFTY
The other day I had a wonderful visit with my beautiful friend Tessa, who has cleverly transferred her
comics
images to patches of fabric. She signed mine all special-like: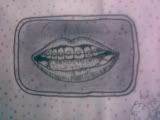 Her use of fabric to display her art reminded me of an exhibit I visited twice this month on First Thursdays at 49 Geary, "The Wonder of You" by
Orly Cogan
. There were massive quilts filled with pastel stitchings of nude figures, zoo animals, lots of drugs and cupcakes. My friend Sean called it "very born-again Christian":
I love everything about reclaiming the domestic arts for decidedly undomestic means. Why embroider "Home is Where the Heart Is", when you could be quoting Charles Bukowski or making an anti-war statement? I particularly like this group of
anarchist knitters
responsible for this fine piece of work: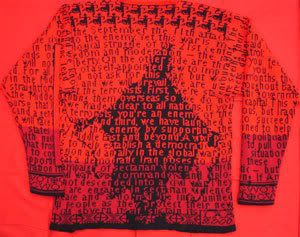 Crafty ladies I salute you.