PICTURES FROM MY SECRET SPY PHONE (and SF political roundup)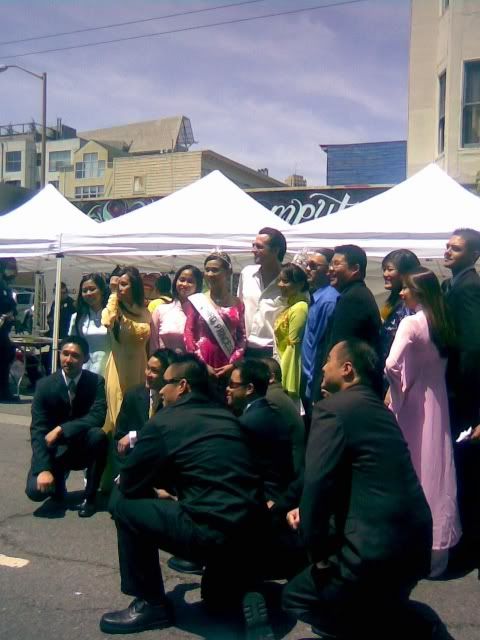 Oh look kids, here's a picture I shot at the Asian Heritage Festival a few weeks ago, which was right around the corner from where I live in the SOMA. The tall cracker in the center is not a Steven Seagal stunt double, but none other than San Francisco Mayor Gavin Newsom! When Gavin's not initiating sexy policies like free wi-fi and gay marriage for all, or sleeping with his co-workers' peers or b-movie actresses or underage Republican models, apparently he can be found posing with Asian beauty queens! (Yes, I am bitter because he won't be my boyfriend, despite all the love/stalking I have shown him).
In other local San Fran political news, Supervisor Ed Jew, who is not a Jew but actually Asian, is also not authorized to represent the Sunset District, as he was found guilty of lying about his current residency. He was arrested this morning but is now out on bail. He basically used his mommy and daddy's address as his own--ooh, and the authorities only checked his "home" because they were investigating him on extortion charges. What kind of moron performed the proof of residency anyways? I bet it would be easier for me to falsely represent a district than open a video rental account. I digress...I don't want to be a Jew.