EVERYTHING GOOD IS BURNING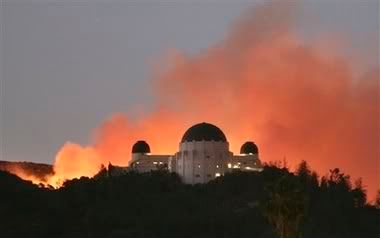 Is what my friend Jeff said in an email last week when DC's Eastern Market was, according to reports, "accidentally" set ablaze, leaving $20 mil worth of damages and 13 merchants displaced. The train station-looking brick building, which I lived just a few apartments down from during my internship stint, was in continuous operation from 1873 until just last week. The niche delis and food stands were always bustling, but it was the outdoor farmer's market which really drew in the masses on the weekends, and really made it a local treasure.
Now just this morning I am hearing that my very favorite hallmark of the Hollywood Hills, one of the very few spots in all of Los Angeles where you can study the stars, admire the incredible views, and revisit James Dean territory, has been set ablaze as well. 600 acres gone!!! 300 people evacuated too. And as for unpredictable catastrophe in general, I would be a complete asshole if I failed to mention the tornado tragedy that destroyed the small town of Greensburg, Kansas claiming 11 lives--a situation not likely to get any better due to the fact that the National Guard is preoccupied elsewhere.. anyhow. I was shaken, so the only thing to do, naturally, was to consult the Rapture Index. The "Prophetic Speedomer of End-Time Activity" would tell me if the End of Days was not, well, one day closer.
Ladies and gentleman brace yourself: index levels have now reached 157, which means "Heavy Prophetic Activity," according to the website (oh by the way that's raptureready.com). Unfortunately, "fire" wasn't it's own item, but "wild weather" was, and it ranked a 5--the highest ranking you can get! It's right up there with "Crime Rate" and "Persia(Iran)". Quite luckily, however, "Kings of the East" and "Mark of the Beast" have not reached 5 just yet. Also, "Liberalism" is waning.